ICF (Insulated Concrete Framework) is a cutting-edge construction method that helps you to build better, more comfortable and more energy efficient homes, faster. They are low-energy, regulation-compliant building products designed to save you time, reduce costs and enable you to build top quality homes. ICF is also certified for use in the construction of buildings of up to six stories (18m).
EVERYTHING YOU NEED TO KNOW ABOUT OUR ICF SYSTEM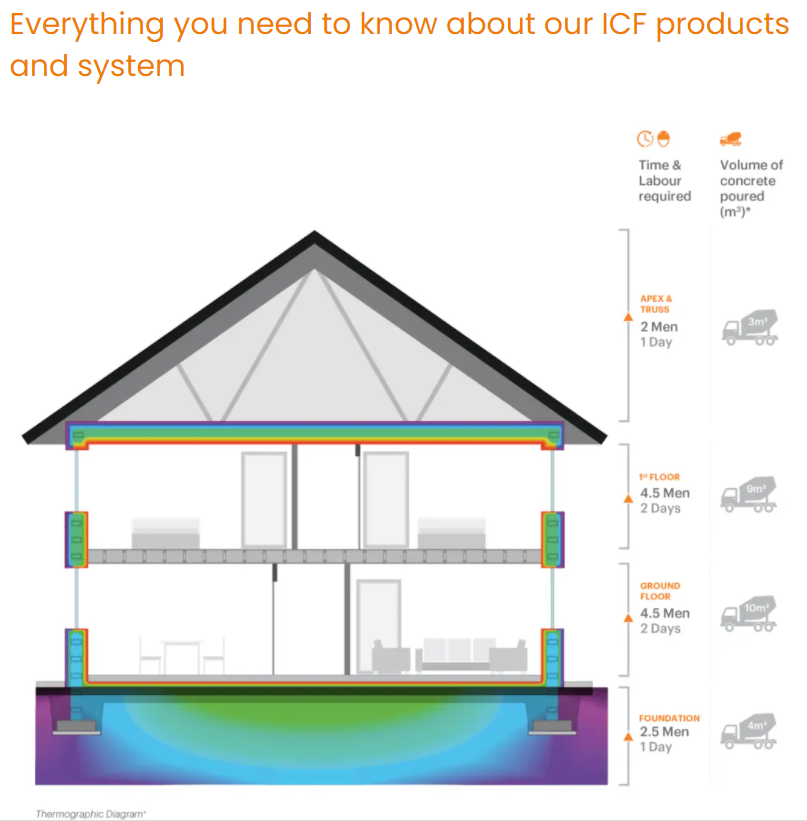 ICF PRODUCTS CAN HELP YOU:
Build Faster and Be More Productive
Highly efficient building is crucial in the modern construction industry. Using our
product, a team can erect a pair of semi-detached houses from foundation to apex in approximately 12 days, substantially cutting programme time. Walls can be raised in all weather and with our factory able to deploy materials to any construction site in Ireland in a matter of hours, logistical worries are a thing of the past.
Reduce Costs
Controlling costs is always a major building concern. Minimal waste means our houses are built quickly, efficiently and cost-effectively, allowing your overheads to stay competitive.
Stay Compliant
Stax ICF and our partners at Altherm ICF guarantee the highest standards in quality and NZEB compliance. Our system works to contribute significantly towards an NZEB and A rating for finished homes.
Maximise Health & Safety On Site
Safety is paramount in everything that we do. Stax ICF's approach offers light and easy to handle material that requires no cranes or other heavy machinery to move material around the site. Combined with a reduced labour pool needed to implement an ICF construction, this adds up to a significantly reduced risk of on-site injury.
Maintain Quality & Maximise Energy Efficiency
Optimum air-tightness and soundproofing is easily achieved with Stax ICF. Houses built with our ICF products regularly exceed soundproofing standards of >53db and easily surpass air-tightness levels of 3ac/h. In an era of carbon footprints, rising energy bills and growing consumer environmental awareness, house buyers are always looking to decrease energy and fuel consumption. That's where we come in.